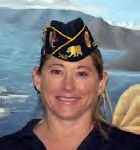 COMMANDER | JEN HOLDEN
Hello my fellow Legionnaires! I apologize for my very short article in September. My plate has been incredibly full the last few months and it's going to get fuller starting this month! First and foremost I want to give a huge THANK YOU and BRAVO ZULU to Bill Stintsman, Mike Frank, Kevin Wood, and Cody York for the installation of the two 75" smart TVs in the hall and the integration of the best Wi-Fi money can buy for the entire post! This has been a project that you all may have seen being done in the last couple of weeks. The installation of these items will make us marketable for the use of the hall for business meetings, classes, and small conferences. When you see these men around the Post shake their hands and say thank you. Due to this hard work being completed, in October, our Post will be hosting the California American Legion College (CALC) on 20-22 Oct 2023. Hosting CALC is an honor for our Post, and it puts us on the Departmental map, so to speak. The CALC Course curriculum focuses on management techniques, compliance, collaboration, membership growth, resources, and skills necessary to increase public awareness and visibility of The American Legion's mission and programs in our communities. A prerequisite for attending is the American Legion Basic Training course. If you are interested in attending please go to https://calegion.org/training/legion-college/ to sign up by Oct. 6, 2023. Why is CALC important? It enhances knowledge and appreciation of The American Legion and teaches the core values and contributions of the organization, its Auxiliary, Sons of The American Legion, and many subordinate programs. The CALC prepares Legionnaires for leadership positions in posts and districts through education, development, and motivation. The curriculum challenges student leaders to think critically and creatively about issues confronting the Legion.
Next month will be the 4th Annual VetFest Celebration held on Veteran's Day, Nov. 11, 2023. This day-long celebration is put on by Post 149 in partnership with the Brother's of 6 Charities, Inc. and sponsored by many local businesses. The purpose of VetFest is to honor our hometown heros. There will be a parade down Grand Ave from Maple to Ivy going up and down both sides of the street. It is followed by a ceremony, food, and entertainment at Post 149! We are looking for members to ride in the parade on the Post Float and to help out at the Post for the event. This is a large fundraiser for the Post and it has grown every year. Please attend one or both of the events that day.
I want to say thank you to the many members we had at the September Post meeting. It was one of the fullest meetings I've seen since becoming Commander. I want to encourage you all to reach out to your fellow Legionnaires to check-in on each other. We are stronger together. I truly appreciate your engagement with the Post.