VetFest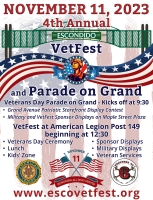 Please Join Us NOVEMBER 11 2023 TO HONOR AND PAY TRIBUTE TO OUR LOCAL NORTH COUNTY VETERANS
Parade on Grand Ave. 9:30-11:00.
American Legion Post 149's VetFest Celebration is lunch, celebration, music and more.
Our American Legion Post has been welcoming all VETERANS from every branch of our Armed Forces since 1919. We are blessed with truly wonderful patriotic citizens from the Escondido community who help us sponsor scholarships for the children within the community and give aid and assistance to our local veterans, and their families.