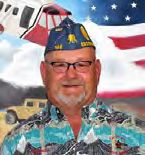 SAL COMMANDER | KEITH BELL
We have completed Nominations and Election of Officers. We have a new 2nd Vice Commander Tim Hoeffliger. Thank you to all the squadron officers for their service and I look forward to continuing as the SAL Commander.
We had a good turnout for Mother's Day Breakfast. We still have tickets for the Milwaukee Tool Kit and hope to have a drawing soon. We will be helping at Escondido Street Fare Event and Memorial Day Services and placing flags with the Boy Scouts at Oak Hill Memorial Park Cemetery.
Our next Breakfast will be June 4th. Future Farmers of America (FFA) will be helping with breakfast and will receive all the profits. Hope to see you there and will have the tool raffle.
I am sorry to report the summer Pro Wrestling has been canceled. We are still planning the third. Annual fall Pro Wrestling.