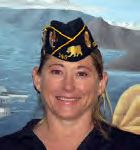 COMMANDER | JEN HOLDEN
Thank you all for reelecting me your Commander for another year. Your support and votes mean a lot to me. I will do my best to not let you all down. I will let the Adjutant list all the new officers for 2023-2024. I do want welcome brand-new Executive Board members: Tony Maffini and Jeff Sheggrud. I look forward working with you both.
Did you know that the American Legion wasn't just created as a social club for veterans to gather? The American Legion's emergence and rise to prominence was based on a mission to strengthen the nation through programs, services and advocacy that helped millions throughout the organization's first century. In 1919, The American Legion was founded on four pillars: Veterans Affairs & Rehabilitation, National Security, Americanism, and Children & Youth. Each of these pillars encompasses a variety of programs that benefit our nation's veterans, its service members, their families, the youth of America and ordinary citizens. This year I want to talk about these founding values with you.
One of the statements in the Preamble to the Constitution of the American Legion is "To foster and perpetuate a one hundred percent Americanism." Americanism is an unfailing love of country, loyalty to its institutions and ideals, eagerness to defend it against all enemies, individual allegiance to the U.S. flag and a desire to secure the blessings of liberty to ourselves and our posterity. Ponder on this statement and ask yourself, "What does Americanism mean to me?" This question was asked and thought so important that our Founding Members placed it as an integral value and mission of the American Legion.
The Post supports Americanism by taking flags for proper disposal according to the U.S. Flag Code; sponsoring a Boy Scout Troop and an American Legion Baseball Team; supporting financially American Legion Boys State; holding an oratorical scholarship program (A Constitutional Speech Contest). These are just a few of the functions our Post supports routinely.
Don't forget that this is your post! I was so happy to see about 30 people show up for the last meeting. We are here to support you and we can't do that without your participation. If you want to know more, please attend the Post Meeting held on the third Tuesday of every month. This month's meeting is June 20, 2023, at 6:00 PM. I look forward to seeing your faces at the Post and Clubroom.