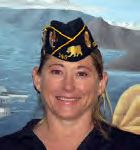 COMMANDER | JEN HOLDEN
I want you all to know I will be running again as your Commander. I would be honored to have your support and vote. I also ask that you attend the meeting on May 16th to participate in the nominations and voting for your elected officers.
As my year as your Commander comes to a close I want to say thank you and well done to our Adjutant, Bill Stintsman. He keeps this place running and makes me look like an excellent Commander. Please acknowledge all the hard work he does to keep our Post functioning like a well oiled machine.
I commend the Club Room staff for all the work they do to keep our customers and post members happy and comfortable. I don't know if you hear it enough, THANK YOU! The five of you give your all to this post.
Last, but not least. They are a small group but without which our Post wouldn't be clean or fit for habitation. Greg, Connie, and Jorge work hard and for little credit. You never look for recognition for your deeds. These things do not go unnoticed by me. Give them a hi five, fist bump, or pat on the back.
To the American Legion Riders Chapter 149, the Sons of the American Legion Squadron 149 and the American Legion Auxiliary Unit 149: THANK YOU for all the things you do to support the Post. The Post could not function without your organizations.