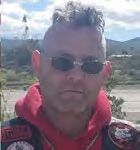 2ND VICE | STEF HOLDEN
My fellow Legionnaires,
Let's all take a moment to say farewell to our long-time Head Bartender Ms. Shannon White as she has left us in pursuit of other opportunities. Shannon, your legion wishes you all the best and you will be missed. Thank you, Shannon, for your years of service to the Post!
Now I would like to welcome the newest member to our Legion family, Ms. Marissa Brown. I know she is going to be a great addition to our team and we all look forward to working with you. WELCOME ABAORD!
Club 149, in conjunction with Brothers of 6 Charities Inc., are excited to present the 3rd annual "619 Dinner" celebrating the history of San Diego County! The dinner is paired with a luggage and sock drive to benefit the San Pasqual Academy and homeless shelters throughout San Diego County. Bring a NEW piece of luggage, backpack, duffel, tote or a NEW package to receive a drink special. The event is to take place Saturday, June 17th. Dinner is served at 5pm and live music featuring "The Jesse Cox Syndrome" will begin at 6pm.
We will see you all at Club 149!