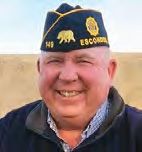 1ST VICE | PAUL MCNAMARA
Fellow Legionnaires,
First, thank you for your confidence in my abilities to be your 1st Vice by electing me for next year at our last meeting. Although a short term this year, it has been an honor to serve you all.
We had six new members voted in at that same meeting and so I want to welcome them aboard and thank them for choosing our Post. We look forward to your contribution, input, and being members of our team.
But it needs to be pointed out that none of them were from the Iraq/Afghanistan era. Talking about recruiting veterans from that era will be a recurring theme for me. Let's face it, we all know them, and that they served honorably and still have a lot of service to offer to our nation and community. And I would argue that the nation needs the values of the Legion now more than ever. And so, I am asking you to put your recruiting hat back on and make sure our message of the best American values gets to them, and that they understand that the Legion is a perfect venue to continue on the service to our country journey they started in their youth.
We have a lot of events coming up. I look forward to seeing you there!